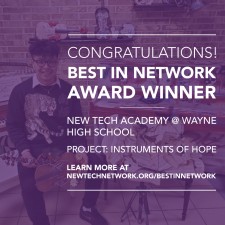 New Tech Network announces New Tech Academy at Wayne High School as the 2020 winner of the Best in Network Award
FORT WAYNE, Ind., May 27, 2020 (Newswire.com) - New Tech Network (NTN), a national education nonprofit and design partner for comprehensive K – 12 school change, has announced teachers at New Tech Academy at Wayne High School as the Secondary (high school) winner of the Best in Network award for their project "Instruments of Hope."
Each year, NTN bestows the Best in Network Award to a project that successfully combines active exploration, application, authenticity, and academic rigor while creating rich learning experiences for students that challenge and inspire the network's practice of project-based learning.
New Tech Academy teachers Jeff Roberts and Josh Smith developed the Instruments of Hope project around the driving question, "How is music used to save or persecute?" Students from all grade levels participated in the project as part of a cross-curricular exhibit, which spanned four classes at New Tech Academy (Holocaust Education, Mass Media, Psychology and Journalism).
Students worked individually and collaborated in groups to explore the connections between playing musical instruments and the survival or death of Jewish musicians during the Nazis' persecutions in the Holocaust era with the impact of music on an individual's life (including themselves).
Community partnerships became cornerstones of this project. The Jewish Federation of Fort Wayne, the Fort Wayne Philharmonic, and "Violins of Hope" author, Dr. James Grymes, all supported student research into the lives of people persecuted during World War II. Students created and displayed art pieces, featuring musical instruments donated by community members, that expressed the impact of music on the lives of those that were impacted by the Holocaust. Sweetwater donated music stands to the project, and Mynett Music helped the students find the used instruments.
Students also produced a documentary showcasing the project. Additionally they developed an understanding of how musical abilities saved individuals from certain death, and explored ways music is relevant today. The project culminated with a final presentation of their work at an Instruments of Hope Gala that featured a cross-curricular exhibit (audio, written and visual) display showing how music positively or negatively impacts the current world.
"This project impacted so many people," said Lead Facilitator Jeff Roberts. "There were many staff members, students, and community groups involved. Students sometimes struggle with the connection between past historical events and this project allowed students to become empathetic towards those individuals impacted by the Holocaust."
"The collaboration between 4 different elective courses also will leave a profound impact on the school, and provide an example for future projects at New Tech Academy," said Co-Facilitator Josh Smith. "This project proved that students were able to find true understanding and connection to the Holocaust, in an empathetic way that authentically connected them to their community. These truly were instruments of hope."
New Tech Academy at Wayne High School is a member of the New Tech Network, one of 200 schools in 28 states and Australia. NTN partners with schools and districts to design a project-based learning curriculum that supports students to graduate ready to pursue college and career.
"Instruments of Hope" is an exemplary project in every way we think matters--relevancy, community partnerships, and meaningful student work that goes well beyond test scores. The extraordinary project Jeff and Josh designed resulted in a learning experience these students will value long after their high school journey ends," said Lydia Dobyns, President and CEO of New Tech Network. "Recognizing great teaching and learning during this time of the Coronavirus disruptions feels especially important to us and we are thrilled to celebrate the power of meaningful education with the Best in Network Award."
Member schools throughout the network will have access to the Instruments of Hope project design details and the work will be featured at this summer's virtual gathering of educators from across the country.
"I think this project was so impactful because of its sheer magnitude," said Luke Vance, a senior student at New Tech Academy. "Never in my three years at the school did we ever have a project that spread across so many classes and so many platforms. There were written pieces, videos, artistic pieces, and we all had to collaborate with another to put together the bigger picture. We really relied on each other during this project, and it's amazing how we all came together to create such a tremendous final product and further our understanding of an event that took place a little less than a century ago. "
Learn more about the Best in Network Award and winning projects at https://newtechnetwork.org/bestinnetwork
About New Tech Network
New Tech Network, a national nonprofit organization, is a leading design partner for comprehensive K-12 school change. NTN has successfully guided over 200 schools and districts in 28 states with a whole school, systemic approach where student skills are valued as much as test scores. New Tech Network provides professional development and coaching for teachers and school leaders to inspire and engage all students through authentic and challenging work. The New Tech school model features multiple student learning outcomes combined with pervasive project-based learning, an inclusive school-wide culture and the real-world use of technology tools and resources.
Source: New Tech Network
Share: