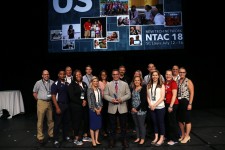 Leader Patrick Gallucci is recognized at the New Tech Annual Conference.
NAPA, Calif., July 31, 2018 (Newswire.com) - New Tech Network awarded Patrick Gallucci, Commandant of First State Military Academy, with the prestigious Susan Schilling Legacy Award for his exemplary leadership. The award was presented in St. Louis at the New Tech Annual Conference (NTAC), where 1,400 teachers and education leaders from across the country and Australia convened.
Commandant Gallucci has led First State Military Academy, located in Clayton, DE, since January of 2015. First State Military Academy is a 9-12 public charter high school where all cadets are members of the Marine Corps JROTC program. The Academy serves a diverse student population and is the first military academy to partner with New Tech Network.
I believe that the New Tech Network model is synonymous with MCJROTC: leadership, collaboration, agency, and problem-solving.

Patrick Gallucci , Commandant
Gallucci took on the challenge of hiring new teachers, creating a new school, and implementing a new program with grit and perseverance.
"We just welcomed our first graduating class. Each cadet that has been with the academy since 2015 was recognized as an official plank owner. A title to one of the planks from the original drill deck was presented as a reward for the efforts and diligence that laid the cornerstone for what is to become a highly regarded and successful part of education within the State of Delaware," said Gallucci.
The Commandant preaches "culture over content" and stresses the value of distributive leadership. He has created a sustainable model by encouraging teachers to focus on leadership skills with a growth mindset and to be invested in the students they are teaching.
"I believe that the New Tech Network model is synonymous with MCJROTC: leadership, collaboration, agency, and problem-solving. I have successfully strived to form a single school culture between Marine instructors and teachers. One that promotes a growth mindset," said Gallucci.
The conference theme, "Power of Us" was a deep-dive into the idea that a connected network is essential to addressing the most complex challenges that schools face today. The conference theme was enhanced with the release of, "Better Together: How to Leverage School Networks for Smarter Personalized and Project-Based Learning" a new book co-authored by NTN President and CEO Lydia Dobyns and Getting Smart CEO Tom Vander Ark.
"Better Together" gives context to one of the modern era's most important educational innovations and provides smart strategies for collaborating in school networks to achieve the promise of personalized and project-based learning for all students. It also explores the challenges schools face when innovating in isolation.
"New Tech Network's foundational belief is that schools get better by being part of a community. We think school networks hold the best potential for solving the most complex challenge we face today: closing the opportunity gap for all students, no matter where they live," said Dobyns.
About New Tech Network
New Tech Network, a national non-profit organization, is a leading design partner for comprehensive K-12 school change. We coach teachers and school leaders to inspire and engage all students through authentic and challenging work. The New Tech model combines pervasive project-based learning, an engaging school-wide culture and the real-world use of technology tools and resources. We support the whole school through three key structures: professional development events, coaching, and Echo, the NTN project-based platform.
New Tech Network students consistently outperform national high school graduation and college persistence rates. The network consists of more than 200 schools in 26 states and Australia.
Source: New Tech Network
Share: